Cherry Pick India 50% Off Super Sale on All Selected Furniture
Furniture on Sale in Bangalore
"Everything is designed. Few things are designed well."
If you are looking to furnish your beautiful new home with tasteful pieces of furniture, then you need look no further. We have done the homework for you – traveling to the far corners of the globe to personally select each exclusive piece. Our distinctive line of furniture has been hand-picked from USA, Italy, the Netherlands, Germany, Australia and Hong Kong. Our range of living room, dining room, and bedroom furniture bring comfort and style into your home. Equip your office with our range of ergonomic chairs, desks, and storage solutions. And, for a perfect complement to your decor, Cherry Pick offers a wide selection of accessories like Coffee Tables, Side Tables, Corner Tables, Carpets, Window Blinds, Artefacts, Mirrors, Lamps, Relaxing Chairs, Floorings, Wall Paper, Corporate & Cafeteria Chairs.
Cherrypick India is forefront among the top furniture stores that are providing an opportunity to buy the most luxurious furniture at competitive prices. We have identified the buying behavior of current furniture shoppers and offering a special 50% discount on a wide variety of artistically designed furniture items to take home something exciting.
Said that, CherryPick is providing 50% discounts on a variety of sofa, recliners, dining & coffee tables, office tables, and outdoor furniture. So before time runs out, let's glance at some of the furniture categories that are must-haves with 50% off catalogue;
Living Room Sofa Sets
There is hardly any doubt that a quality sofa set is the life of the living room. While selecting sofas, you should adopt a fashionable buying approach as it is the first thing to catch your guests' eyes. At CherryPick, you are getting 50% standard discounts on a selected array of sofa sets. From supremo sofas to electrically operated leather sofas, there is no dearth of options when the context is about casting first impressions on guests. So what are you waiting for? Explore selected range of sofa sets and grab one at 50% discount. Here's few selected Sofa furniture at best discounts;
Recliners
Want to replace conventional chairs with contemporary designed recliners? At CherryPick, you would get a wide variety of recliner chairs designed as per your preferences and aesthetic taste. From an electrically operated three-seater fabric recliner to manual leather recliners, you would be spoilt for choice at CherryPick. What's more exciting is the fact that CherryPick is offering you 50% off on all selected types of recliners. So, visit the Cherrypick India furniture store today to purchase the most luxurious furniture that can transform your home with new age functionalities. Here's few selected Recliners furniture at best discounts;
Center Tables and Coffee Tables
A center table for the living room is often the center of attraction for your revered guests. On the other hand, there is nothing beautiful than placing a coffee table in your aesthetically designed living room. If your living room has an enticing décor that best articulates modern artworks and illustrations, a coffee table is your best bet. At CherryPick, you can now get selected coffee tables at flat 50% off. Whether you are buying a coffee table with Bentply easy chairs or a simple yet artistically carved table, there are loads of options waiting for you at our furniture showroom. Here's few selected Coffee Chair & Table furniture at best discounts;
Glass Top and Marble Top Tables
There are very pieces of furniture that can grab eyeballs. Both the glass top and marble top tables can grab the attention of your guests equally. Whether you are hosting a housewarming party or an anniversary dinner, glass top and marble top tables exhibit your passion for the finest things of life. Alluringly, they are now available at a flat 50% discount at CherryPick. Browse through their extensive collections of intricately designed tables and render an eclectic feel to your home décor. Here's few selected Glass Top & Marble Top Table furniture at best discounts;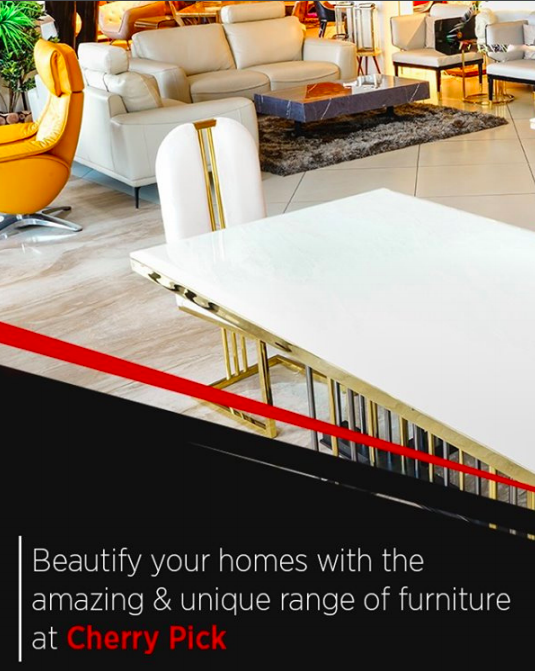 As you can see, there are various categories of contemporary furniture available at CherryPick. The standard 50% discount on all selected furniture products from CherryPick is your best bargain now to revamp your home's décor. Quite interestingly, most people nowadays are buying furniture to create experiences and brands documenting those experiences for their faithful and engaged online followers.