Customer Reviews: Cherrypick India Furniture Store Koramangala
Cherrypick Store Furniture Reviews
About Cherrypick Furniture
Cherrypick India brings you the grandeur in furniture choice you are looking for. The Store offers lavish collection with customized options for indoor and outdoor furniture. Our top 5 Exclusive luxury brands include Steel-Land, IMG Norway, HumanScale, Simmons and M&D exclusively handpicked from USA, Italy, Netherlands, Australia and Hong Kong. Our furniture shop covers a wide range of distinctive and stylish products for living room, dining, bedroom, office, and outdoors.
Our distinctive and stylish products that position us for classy & luxury furniture store include;
Leather Sofa
Recliners
Relaxing Chair
Fabric Sofa
Coffee Table
Dining Table & Chair
Bar Table
Bedroom Mattress
Office Table, Chair & Line Series
Outdoor Garden Sittings & Swings
Light, Fan, Frames & Artifacts Home Décor
Let's find the Online Brand Presence of Cherrypick India Furniture Store in Bangalore;
This will help customer to know the true-essence of Cherrypick as a brand in the market, and stand out to our target audience for one-of-the-top luxury furniture brand in & around koramangala, and in bangalore.
Cherrypick on Google Reviews
We stand on a 4.4 rating with 360+ Google reviews with the maximum compliments and good feedback for our luxury products and service from our competitors. Some of the compliment of Customers that cherrypick take pride on;
Staff here is really forthcoming and helpful
Outstanding collections of dining tables, sofa and other furniture
Providing complete information and follow up till delivering the product to the site
Great ambiance and everyone made us feel comfortable and was very helpful
Showed & helped us choose our choice of furniture which is well appreciates
Great contemporary collection
Never seen such a sales executive explained each and every thing with patience>
Variety I found at Cherry pic was extremely extra ordinary 
Excellent customer service; fabulous product range
Amazing place for anybody looking  to adorn their homes with unique pieces crafted with excellent style and care
Excellent Place for your home furniture needs,great staff and very efficient service
Note: Our 4 or 3 ratings that reduced our review score, have been for a specific reason i.e., "being a premium store of premium class", and price a factor that can't match everyone's expectations; you can refer the reason below.
Ranking in Google Maps (reputed furniture brand of Koramangala)
It's a part of pride & confidence to find ourself positioned well in the Google local ranking for the most relevant queries that a customer could search online for "exclusive furniture shop in koramangala or bangalore."


#1 Ranking in Google Search for the term "luxury furniture"
Cherrypick Furniture brand is all about luxury furniture products, and it's so overwhelming for the family of Cherrypick to find themselves Rank 1 in Google results for the most representative word to their brand
Cherrypick Koramangala reference on Google Map route
You'd definitely come across cherrypick imported furniture store, if you anytime searched for "furniture shop near me" or "furniture store near me" or "furniture showroom near me" in & around koramangala bangalore.
Finally walk-in Cherrypick: Take a inside view of the furniture store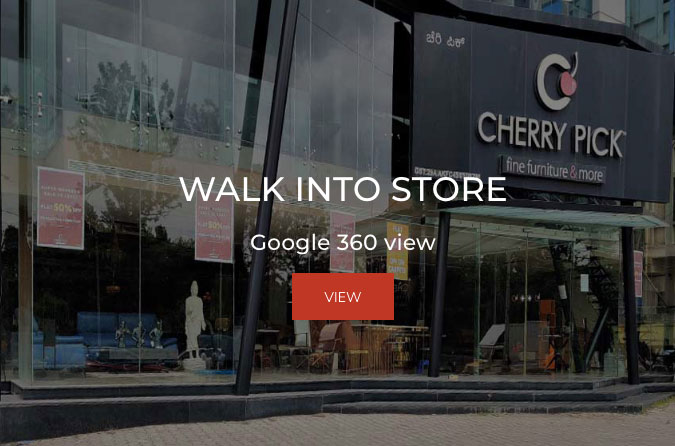 Cherrypick on Social Media
It's a continuous effort to keep ourself updated with the latest furniture products and ideas for our customer's reference and benefit in order to help them take a better decision in their purchase of luxury or imported furniture. Timely update of sales & exchange offers on different furniture products on sofas, recliners, dining table, chairs, and others have been very opportunistic for the customer as well as the brand. So happy to see our customers follow CherryPick on social media to keep updates on new furniture designs, offers and queries online;
It always means so much where we live and is always welcoming. A person's heart set into a single place called home after you step out of the house. There is no place like home. The house reflects the persons emotion's luxury and comfort. Furnishing the house accordingly is of great importance as well. Explore the exquiste comfort to your ultimate relaxation from Cherrypick India. The one-stop furniture showroom for your home decor, office, indoor, living room, dining and bedroom. Each an every product is created to maximize your comfort with state-of-the-art technology.