7 Steps Sofa Set Buying Guide for Your Home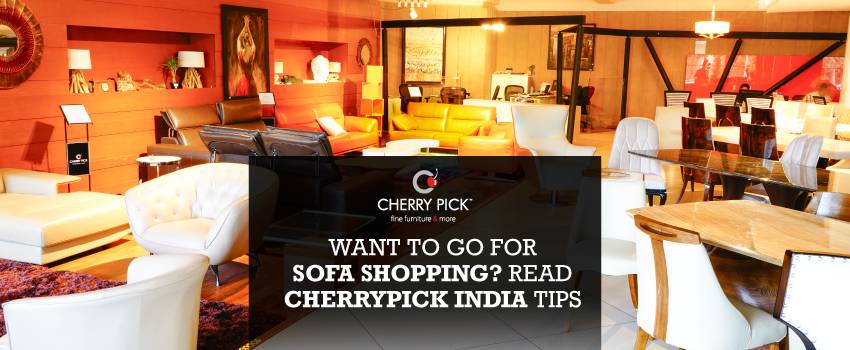 Sofa Set Buying Guide
Each element of your house should tie in together to form a cohesive whole. This is the secret to successful interior decor. Luckily, there are various types of design elements available to satiate your design needs. From modern to classic or retro, there are plenty of choices out there; all you need is to go and get the right item to give a defined shape to your home.
Just like any other piece of furniture, the sofa set plays an integral role. That being said, the sofa can make or break the whole look of your living room. It entirely depends upon the selection of a sofa set. If chosen correctly, your living room could become the hub of activity in your home, whether you are spending a very cozy evening with your family or watching a movie with guests. But buying a perfect sofa set can be a daunting task, so considering a proper Sofa Buying Guide can be beneficial for you.
7 steps to consider while buying a sofa set for your living room;
Room Size and Shape

Choose a Sofa according to the Wall Décor

Choose the best material of the Sofa

Consider the Fit and Comfort

Joinery

Test the Sofa Arms

Consider your Budget
Room Size and Shape
The first point to consider while buying a Recliner sofa set is considering your room's size and shape. Measure the area you have already designated for your new sofa, taking into account the room's shape and size. Taking note of the sofa's measurement and marking them on your room & floor with string is a good point to consider. This method helps you to make sure that the sofa will fit the space without a hassle.
Choose a Sofa according to the Wall Décor.
For any décor to look flawless, you need each element to complement each other. In recent days, minimalism and modern décor go hand in hand. If the entire décor of your living room is modernized, select a sofa, which complements the home's wall décor and color. You can go for beige, white, and grey colored sofas for your modern living room. But if the theme of your living room is traditional, you will have to focus on elegance. Standard living rooms feature warm colors. Some of the most commonly used shades are beige and brown with slight variations.
Choose the best material of the Sofa.
To buy Sofa Set, one of the significant facts to consider is the material. Fabric is the most comfortable sofa material. It gives diversity in colors and styles at the same time. Fabrics are relatively inexpensive, but it needs proper maintenance. Apart from fabric, you can also purchase a leather sofa, which lasts for years. The leather sofa is low maintenance and simple to clean. This is usually sold in primary shades, but this goes right with most living room decors. Not just leather, but leatherette is also one of the beautiful artificial forms of leather. Leatherette sofas are relatively cheaper compared to leather sofas. These are water-resistant and does not need any complicated process to clean them. But at the same time, a leatherette sofa is less durable.
Consider the Fit and Comfort
Before you shop Sofa online, you need to check its fit correctly. There is no sense in considering the perfect couch if it doesn't fit you well. The seats must be comfortable for all members of your family. When you are purchasing the recliner sofa, you need to ensure that this is comfortable in all the different positions. The primary fit consideration should be the depth of the seats. Choose shallow or deep seats, depending on the average heights of your family members. The couch back needs to support your back effectively with your feet flat on the floor, and your knees' ends a little forward of the lower seat cushion. And if you are someone who likes to take a power nap on a couch, then consider lying down on the sofa and check whether it is comfortable enough for your sleep.
Joinery
Whether you choose a leather sofa set or a fabric sofa one, considering the joinery is essential. Although the process by which the frame parts are held together might not be straight away evident, the salesperson or printed technical specifications must have this information. You need to look for the frames joined with wooden corner blocks, wooden dowels, double wooden dowels, or metal brackets. Do not buy a sofa, which is assembled with only nails, stapes, or glues, although these might be used to deliver additional reinforcement.
Test the Sofa Arms
To buy the Recliner sofa set, you need to be careful about the arms of the sofa. A sofa with a reasonable hardwood frame assembled with corner brackets and dowels must be a quality piece of furniture, but this is a perfect idea to test the sofa's arms forcefully. Always make sure that they are tight and sturdy.
Consider your Budget
There is no denying in a fact that a big chunk of your expense goes towards buying furniture items like a sofa. But if you think only the right sofa can be purchased against a big budget, then this is a myth. You can easily buy a high-quality furniture piece in a store too. You only need to research a bit. There are plenty of options available for you to find inexpensive furniture without compromising the table's quality and looks. One straightforward option is to go online and do proper research on it. Shopping online is one of the most excellent ways to find the best deals, offers, and discounts available on furniture. The sofa is a witness to those memories, which you build over time. Be it the nail-biting cricket matches or stayed up all night binge-watching movies with your family, a comfortable and trendy sofa set is there to stay with you through it all. Now, these abovementioned steps are a few essential tips to help you make an informed decision when you purchase a sofa set online. It's time to bid goodbye to your old sofa set and grace your living room with a new one.
Conclusion
Choose Sofa Sets according to their placement, depending on the size of your living room. The ideal sofa set designs for a small living room would be recliners or a relaxing chair, but if huge space, you need a living room sofa set to complement the room size. Cherrypick India Furniture Store in Koramangala brings you a range of living room sofa set for the best price. Unlock Our "50% OFF" Deals And Take Home Best Sofa Set.