5 Tips to Remember when buying Sofa for Living Room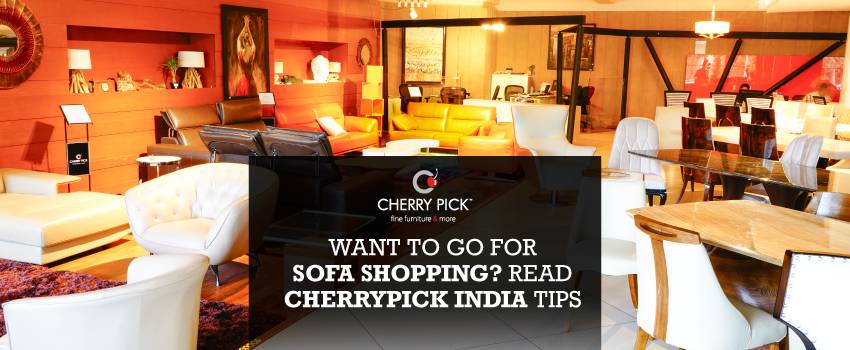 How to shop the most Suitable sofa?

Shopping for a sofa is one of the most important investments you make for your beautiful home. A sofa is something that enlivens your living room and makes a great place to lounge on with your family and friends. You even love to read, eat, drink, watch television and take a snooze on your comfy sofa. So it makes sense that you take time to invest in the right piece of furniture that can last for years to come.
Things to Consider Before You Buy a Sofa
If you plan to buy living room sofa set, you should consider selecting the one that is appropriate in terms of color, fabric, quality, and comfort. From selecting a proper frame to measuring up, here are a few tips that can help you purchase a suitable sofa for your abode:
Consider the Sofa Features
When you are on the hunt for a new sofa make sure you check all its features before you purchase. The couch must be comfortable for you and your family members. The primary consideration is the seat depth. Usually, a standard sofa has a seat depth of minimum 60cm which gives you enough space to maneuver and enables you to push it under if required. But seat depths vary from one sofa to another, so always check different styles and pick the one that gives you the most convenient back support. When it comes to seat height, most sofas have it between 45cm and 50cm. Pick the settee that suits your family size and their preferences. Last but not the least, go for the sofa that has an appropriate total width excluding armrests and is long enough if you like to stretch out or take a nap often.
Sofa cushions can be easily replaced when they get old or worn out, but no couch can be good furniture unless it has a solid and high-quality inner-frame. Buy the sofa having a good quality frame as it will be durable and enable you to enjoy years of lounging without any worry. A sofa with a solid hardwood frame preferably a "kiln-dried" hardwood frame made of oak, beach or ash is a great option. But be careful of the cheaper ones having particleboard, plastic or metal base. The legs of the sofa should be integral parts of the frame or fixed with screws or dowels. Try to avoid a sofa having legs that are just glued. Also, take notice of the guarantee period before you make a purchasing decision. Always opt for those sofa manufacturers who provide you with a minimum of 15 years guarantee.
Evaluate the Sofa Cushion Fillings
The material used inside a sofa is equally important as its other features. Take note of the filling used in the cushions. Talking about the sofa back and seat, feather-filled cushions are very comfortable but they need plumping every day to keep them soft and in shape. On the other hand, foam or fiber-filled cushions usually flatten out early and lose their complete shape. The best solution is to choose a combination of feather and foam cushions in which the former gives the squish while the latter provides structure. In the case of foam, check that it is distortion-free and has good quality. Seat cushions filled with foam or fiber and back cushions filled with feathers work well for a sofa.
Pick the right Fabric for Sofa
Depending on your look of the room, you can go for any colored upholstery- be it bold or neutral. But whatever is the color be careful about the fabric you select for your sofa set as the environment of your room has a significant impact on it. For daily use, linen and cotton fabric sofas are the perfect options. Natural fabrics generally fade in sunlight so go for synthetic materials if you want to place your sofa near a window. The synthetic fabric sofas, especially the dark-colored ones are most suitable if you have kids or pets around as they are convenient to spot clean when there is a stain. Loose covers are also apt for homes with busy families as they can be easily removed for cleaning and most are washable as well. If you want to buy a sofa with a leather fabric then always check that high-quality leather is used in it.
Take the Sofa Measurement
Measuring up the furniture before buying is essential as if it does not fit into your home then there is nothing worse. So at first make sure you always measure up your sofa. Get your tape out and measure the dimensions properly. Select the settee that will fit and suit your space the most. Also, consider the dimensions of doorways and stairways your sofa will pass through after it gets delivered. If access to your doorways is restricted then you may opt for a low back couch especially the one having detachable legs or a modular design so that it can be delivered in parts. If you have a small room you can consider purchasing a love-seat or two seater sofa as it is practical for a limited space. It is always good to customize a sofa according to your needs and space.
Conclusion:
Thus, buying sofa sets can be tricky and it requires the utmost care and skill to purchase the most appropriate one for your home. But do not worry, the above tips will surely help you to make your most expensive purchase of your living room furniture without any hassle. Deck up your abode with the high-end furniture when you shop for the best place to buy sofa in Bangalore and see how it perfectly complements the look of your space!